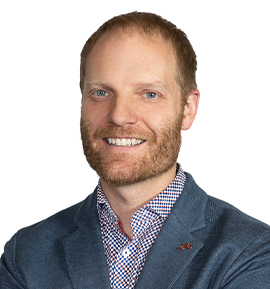 Orthopedic Surgeon and Medical Director
practice@acumenclinic.com
acumensportsandshoulder.com
Dr. Jesse Slade Shantz is a Royal College Certified sports and shoulder surgeon specializing in arthroscopic and open surgeries for shoulder, knee, elbow and sports-associated conditions.
Dr. Slade Shantz has focused his career on both being at the cutting edge of surgical techniques and delivering the experience patients expect in terms of communication, punctuality and customer service within the healthcare system. Because of his unique approach Dr. Slade Shantz has been invited to educate other surgeons on current surgical techniques and speak about entrepreneurship and health system transformation.
Acumen Reconditioning Manager
leeanne@acumenclinic.com
acumenreconditioning.com
A brief background:
LeeAnne is a Certified Athletic Trainer and a member of the National Athletic Trainers Association and the Canadian Athletic Therapists Association. She has a vast interest in Patient Education and making orthopedic care a smooth transition for patients. LeeAnne obtained her Bachelors of Science in Athletic Training and Health Science at Castleton University in Vermont. She practiced as a Certified Athletic Trainer in the states for 6 years with various sports teams and orthopedic clinics. She then went on to pursue her Master's Degree in Exercise Physiology at Mercyhurst University. While in Erie, PA she worked as a Division I Women's Ice Hockey ATC where going to the Frozen Four was one of her favourite memories.
LeeAnne relocated to Canada with her husband where she worked as an Orthopedic Research Coordinator at the PanAm Clinic in Winnipeg, MB. They kept moving west and they found themselves in Edmonton where she was able to connect with the Acumen Team where she is excited to contribute.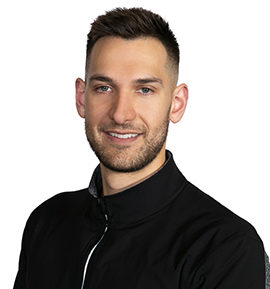 Performance Enhancement Specialist and Conditioning Coach
chris@acumenclinic.com
acumenstrengthandperformance.com
Chris comes to the Acumen Reconditioning team with enthusiasm, keenness, knowledge and experience. As an athlete, Chris experienced the benefit and rewards provided by a personal trainer/coach himself. Chris played competitive hockey and worked his way throughout his career at the AAA, JR.A, and WHL levels. He understands the steps needed during this important journey to get to the "next level" and ensures maintenance of high-level performance.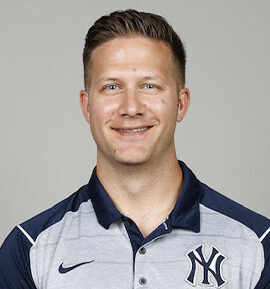 Strength & Conditioning Specialist
michael@acumenclinic.com
acumensportandperformance.com
Mike has spent his 11 year career as a strength and conditioning coach working with one of the most recognizable organizations in North America, the New York Yankees. Here, Mike spent 7 years working within the Yankees Player Development System coordinating everything from rehabilitation of acute and chronic injuries, strength and power development, speed and agility development with players in both the Major and Minor Leagues. He also assisted in implementation of numerous strength and conditioning camps and had the opportunity to work 8 Major League Spring Trainings while with the Yankees.
Athletic Therapist
cayla@acumenclinic.com
acumenathletictherapy.com
As a competitive athlete and outdoor enthusiast, Cayla Galarneau decided she wanted to play an active role in helping people achieve an injury-free lifestyle to pursue their adventures without limitations. Cayla completed her Bachelor of Kinesiology from the University of Calgary with an Advanced Certificate in Athletic Therapy from Mount Royal University and became a Certified Athletic Therapist in 2010. While at UofC Cayla supported the wrestling athletes preparing for nationals, Olympic trials and won ACAC championship working with the women's hockey team.
Athletic Therapist
whitney@acumenclinic.com
movebywhits.com
Whitney comes from a very athletic family and she knew from a young age that she wanted to be involved in sport whether it was as an athlete or as a medical staff. She was heavily involved in soccer until an injury when she was in her early teens, disrupted her path. After recovering from it, she was heavily fascinated by how people would get season ending injuries and sometimes come back even better than they were before. This was one of the reasons why she decided to study Kinesiology and major in athletic therapy.
Travis Martell
Certified Strength and Conditioning Specialist
travis@acumenclinic.com
Meet Travis! His story starts in Edmonton, as he is an Alberta native by birth. He moved to Kelowna, British Columbia at a young age where he played hockey for the local teams from the moment he could skate. Growing up, he continually heard the same thing from coaches "you need to improve your foot speed and strength".
At 17, while playing Junior B hockey, he had hoped to climb the ranks the following season.
Without putting in the off-ice effort needed, he returned to play another year of Junior B. He watched others succeed and surpass him as a result of their improvements from, likely, proper training. This is the beginning of Travis's personal motivated training career and what soon drove his interest in the Exercise Science world.
Nicole Johnston
Rehabilitation Specialist
nicole@acumenclinic.com
Meet Nicole! Nicole grew up living a very active lifestyle, whether that was hiking and enjoying the outdoors or playing sports. She was involved in competitive sports from a young age and saw how much of an impact proper exercise, training and rehabilitation for injuries could have on her game and quality of life. This is where her passion for the study of the human body started. Nicole is highly intrigued on how the body moves, how it operates and functions, and how in turn, to properly train these muscles and movements.
Nicole grew up in Sherwood Park and carried on to University of Alberta where she obtained her Bachelor of Kinesiology. She has spent the past years working in health and wellness and is also the Athletic Trainer for minor hockey. In the hockey setting she focuses more on reducing the risk of injury, communication with Physiotherapists and Athletic Therapists and carrying on proper integration of exercise and rehabilitation for athletes. Nicole has found a special interest in concussion management in sports and playing an integral role in athletes return to play progression. She also loves working on mobility for athletes. This means assisting those in need with their ability to move actively through range of motion.  Nicole accomplishes this by identifying imbalances, correcting and educating limitations and supplying proper exercises for improvement to affect one's activities of daily living and performance.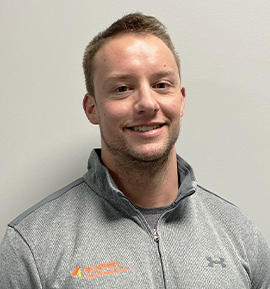 Dustin Oranchuk
Strength & Conditioning Specialist
dustin@acumenclinic.com
Dustin Oranchuk brings 13 years of excellent experience. His most recent, completing a stint abroad in New Zealand and Australia earning a PhD in Sports Science, with a focus on neuromuscular adaptations to resistance training. 
Dustin Oranchuk has a deep background as a strength and conditioning specialist, and as a researcher in several areas of exercise physiology, biomechanics, and sports science. Dustin has worked with teams in the private sector, Canadian Olympic, NCAA, and U-Sports systems. He has also published over 25 peer-reviewed articles in scientific journals and presented at several national and international conferences.
After years of competing in football and weightlifting, Dustin began following his passion in the field of Strength and Conditioning during his Bachelors of Kinesiology studies at Mount Royal University and University of Calgary. Following his undergraduate degree, Dustin had a brief stint working with the Canadian Sports Institute, and later as a Strength and Conditioning coach at a private hockey training facility in Connecticut, USA. Dustin then completed a Master of Science degree in Colorado while serving as the head Strength and Conditioning coach for the University's swimming, volleyball and basketball teams. He then returned to Calgary and served as the Head Strength and Conditioning coach for Dino's football team. 
Dustin enjoys utilizing his scientific background to achieve results while educating each athlete/client and navigating ways to make training an enjoyable experience regardless of the goal. He aims to merge his scientific and practical experiences to help Acumen provide a top-notch, comprehensive sports performance system and utilize the scientific method to drive intelligent change.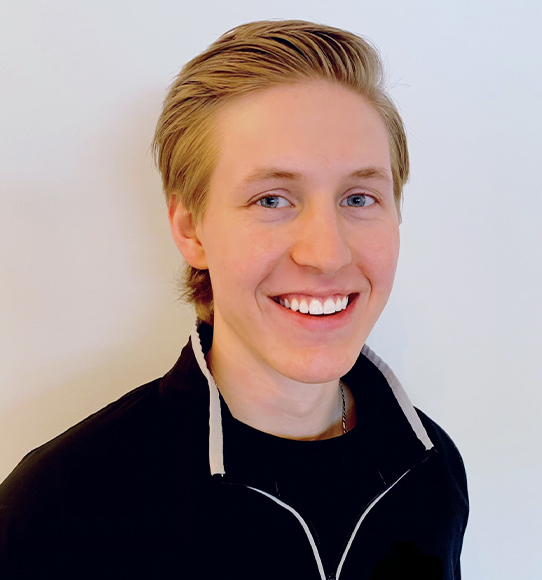 Nick Mudryk
Performance Coach
nicholas@acumenclinic.com
Nick is joining the Acumen Reconditioning team as a recent grad from the NAIT-PFT program. Growing up, athletics played a huge role in Nick's life and gave him the privilege to work with countless coaches, trainers, and sports specialists; they helped guide him through his successful hockey career. Nick is aware of the tools, skills, and effort required to play and succeed in the highest level of sport.
OTHER STAFF MEMBERS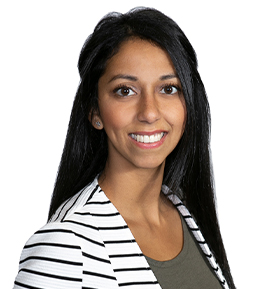 Francesca Sebastian
CEO
francesca@acumenclinic.com
A brief background:
Francesca has an extensive background in clinical management and quality improvement facilitation. Francesca earned her Bachelors of Technology in Technology Management with a Minor in Health Promotion and a diploma in Biotechnology from the Northern Alberta Institute of Technology. From there she gained experience in the field as a Biochemistry Lab Administrator, a Clinic Manager of an ARP Community Health Centre and as a Quality Improvement Facilitator for the Primary Care Network.  She feels pride in working with the Acumen Clinic Team, building partnerships and transforming health care one patient at a time!
Kelly
Surgical and Clinic Coordinator
kelly@acumenclinic.com
A brief background:
While pursuing an early Nursing Degree, Kelly learned the important tools needed to work for large healthcare organizations. She learned how to better serve patients, offer exceptional customer service and client care.  As the Patient Care Coordinator at Acumen Clinic, she is committed to making a difference in people's lives and making sure they are put at the centre. Kelly has a passion for helping others and takes the time to listen and understand the unique needs of each patient.