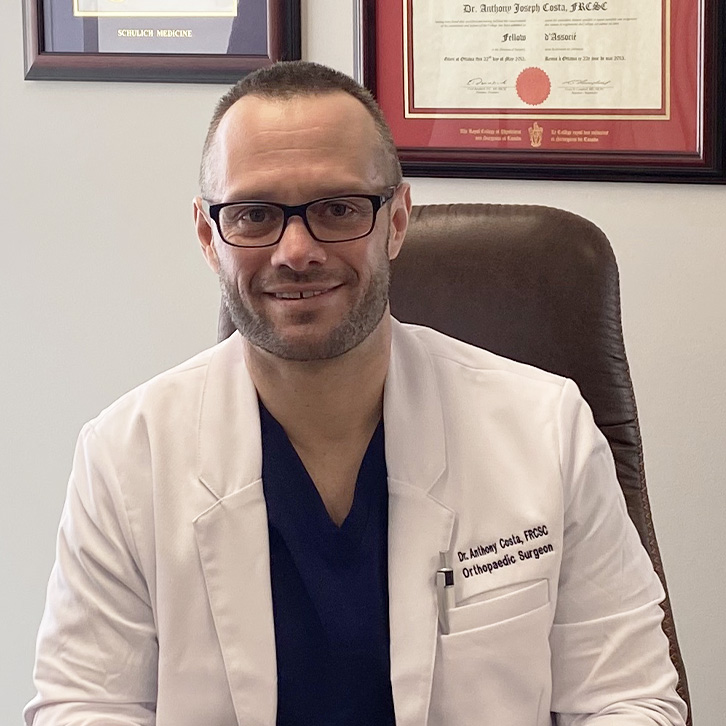 About Dr. Anthony J. Costa
Dr. Anthony J. Costa is an FRCSC certified orthopaedic surgeon with sub-specialty interest in knee and shoulder related conditions, as well as experience managing most other general orthopedic problems. Dr. Costa has extensive operative experience with single- and multi-ligament knee reconstruction, patella realignment surgery, osteotomies of the femur and tibia, meniscal repair and transplant, cartilage restorative procedures, primary and revision knee arthroplasty, as well as rotator cuff surgery and procedures for shoulder instability.
Dr. Costa graduated from the University of Western Ontario Schulich School of Medicine in 2006, and completed his orthopaedic residency training at the University of British Columbia from 2006-2011. From 2011-2012 he undertook further subspecialty fellowship training in orthopaedic knee-related surgery and lower extremity trauma at the Royal North Shore Hospital in Sydney, Australia. From 2012-2021, he worked at the University Hospital of Northern British Columbia in Prince George BC, practicing general orthopaedics, with a focus on both simple and complex knee related conditions, as well as general orthopaedic trauma. During his years in Prince George, Dr. Costa also worked closely with his practice partner and wife, Dr. Denise Mackey (an orthopaedic surgeon with fellowship training in shoulder reconstruction), to hone his skills in shoulder reconstruction.  Dr. Costa is fully licensed to practice in both Alberta and British Columbia, and holds faculty appointments as Clinical Assistant Professor in the Department of Orthopaedics at the University of British Columbia, as well as Clinical Lecturer in the Cumming School of Medicine, Department of Surgery, at the University of Calgary.
Having graduated from the Harvard Medical School Surgical Leadership Program in 2022, Dr. Costa is also passionate about quality improvement and transformational change in orthopaedic care delivery. Dr. Costa believes that delivering quality orthopaedic care in Canada requires constant evaluation of how our care models affect patient outcomes, patient and provider experiences of care, and per capita costs.
Outside of orthopaedics, Dr. Costa, along with his wife and two young boys, frequently take advantage of the many outdoor opportunities available in BC and Alberta, including hiking, camping, canoeing, fishing, surfing, skiing/snowboarding, and of course plenty of hockey!
Memberships and Affiliations
–
Education
–
Achievements & Awards
–
Hospital Affiliations
–
Services Offered
Acumen Clinic offers treatment in the following areas: